A universal guide to the right fly gear and other helpful equipment for carp fly fishing on still waters and rivers!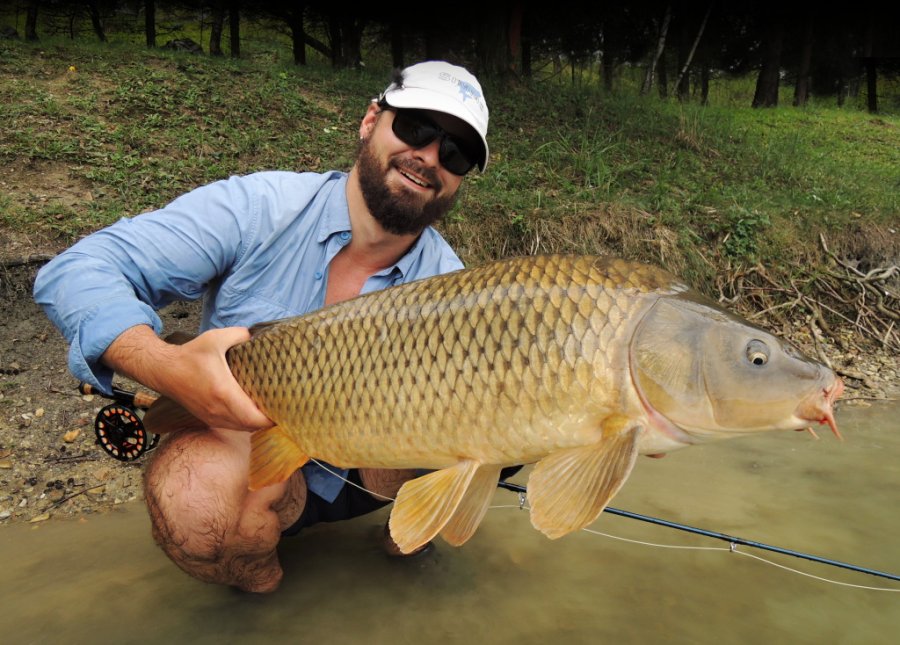 A gorgeous golden scale carp of remarkable proportions and in perfect condition did not resist my fly, which I offered near a bushy water reed! Great and strong fighter till the last moment on my 9wt fly rod! This type of fish is the reason for joy!
The right fly gear for carp fly fishing
Suitable fly rods are in the AFTMA 7 or 8 category, 9 feet (275 cm) long, and in some special cases - the presence of really big fish around fallen trees and water barriers - are the appropriate AFTMA 9 rods. Fast rods with the tip action are more suitable for power fighting with big fish than slower action rods that you can not rely on in so doing.
The fly reel should surely suit the weight of the selected rod and should have enough capacity for the fly line and backing line! Strong and big carp in their wild outbreak immediately after the crash almost always pull the line out of the reel, so it is advisable to insure this situation with the backing line, which will not lose a valuable catch! A suitable large fly reel should be large enough with large capacity for fly line and backing line and should have a good disk drag with easy use.
The fly line must, of course, match the category of the rod used and definitely more suitable are weight forward types - stronger head/belly and thin running line. But, for example, when a fly is presented for a longer distance, it is often better to use a lower category of fly line to lower impact on fish. Floating fly lines are the best, but you can use a different type, such as the underwater type - Hover, which is the next most suitable to floating fly lines! The important part of the fly line is the core, which should be stretching to reveal the first energy escape of the fish. Otherwise, the leader breaks very quick!

Fluorocarbon leaders with a diameter of 0.22 - 0.28 mm are great! These types of leaders are invisible for fish in the water and in this diameter category reduces the risk of losing large fish, and in the event that carp is tangled in a floating obstacle, there is hope of releasing the fish with a stronger leader without the possibility of losing a rare catch!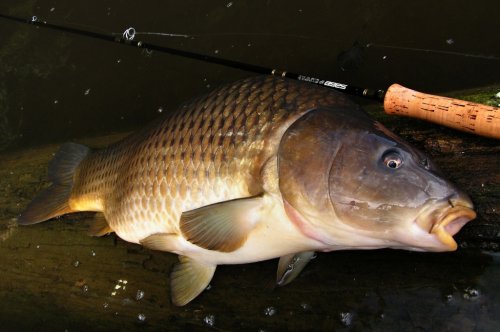 A dark olive colored carp that I catch near a underwater tree, where then posed next to my fly rod for the photo. Like other fish, carp can be masked very well by their natural environment. Mighty nature!
Other carp fly fishing equipment
Keep in mind that when you are actively fishing carp on the fly, you will be moving a lot and often find yourself in a rough terrain or challenging situation. If we add a very hot and sunny weather during the summer months we will often in a very difficult condition that you have to adapt to.
Try to be "as light as possible"!
Wear lightly and airy clothes. You just need a lightweight and breathable shirt, surf shorts made of fast-drying material, a soft long-bill cap that protects your head from the sun, and some suitable sandals that will protect your feet during wading in the mud and underwater branches.
Along with the fly rod, take only the necessary equipment that will fit into your waterproof waistbag. Do not forget your fishing licence, one spool of strong leader, carp fly box, a Swiss knife with more features, scissors and other accessories, folding landing net, which can often serve as a temporary shield when strolling with thorned and often impenetrable coastal vegetation.
Don't forget your polarized glasses to help you to find your fish target or unpleasant obstacles under the water surface! Surely you have to have some nutritious snack and sufficient amount of drinks because you want to fish, not solve the problems associated with dehydration and sunstroke!