In this short article you will really quick learn what basic carp flies to use in order to make your carp fly fishing the most effective and absolutely unforgettable!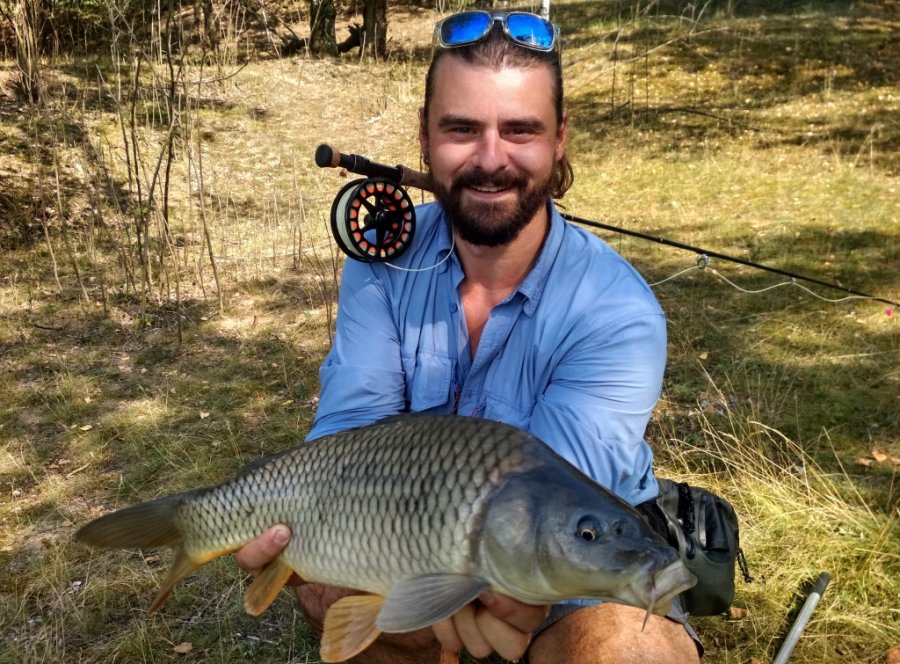 Nice carp of traditional size caught during a really hot day. On such days, fish often swim under the surface very actively, devoid of meaning, and respond to the impact of our flies moving near them. Try to be ready for a quick strike. But do nit miss, these fish are easily spooked and waiting for another fish in extremely hot days is a very challenging and hard discipline!
The Best Carp Flies
This is my recommendation for the best carp flies based on my carp fly fishing experience for many years in central Europe.
In the first place, our fly has to act naturally, which is mainly related to its presentation. As soon as we have mastered the correct technique of presenting our flies, we are half way to win and we can only improve it with a suitable fly pattern!
Carp Fly Size
The most common size for the carp flies is No 8 - 10 however we can use the size range between 6 and 12.
Sight Fishing
Use flies that will be well visible to you and for fish of course! Therefore, it is advisable to use carp flies larger than those we commonly fly fish with for trouts on still water (size 6 or 8) - nymphs, lures, buzzers - in dark colors to improve the visibility for us, e.g. in slightly muddy water.
Personally, I prefer to use bigger black flies, which I can see and work with it well. Big dark flies can be better controlled and watching the strike of the fish!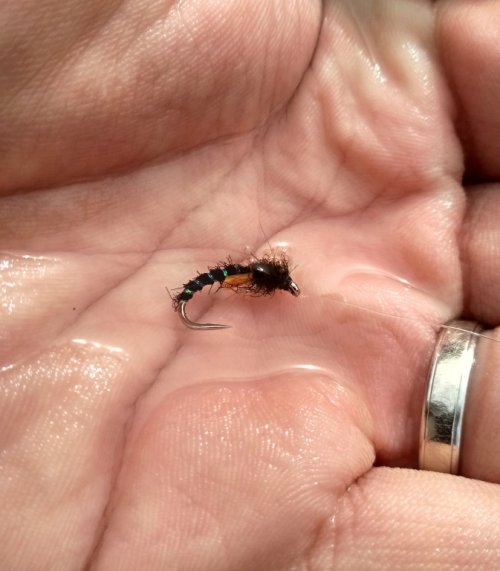 AR Black & Green Seal Buzzer - Excellent fly for rainbow trout fly fishing on still water. In the size of 6 - 10 great stalking fly for the hunting of big summer carp standing still under the water surface.
Active Stalking
Flies as CARP TUTY, EPOXY BUZZER or larger dark nymphs as PHEASANT TAIL NYMPHS or HARE'S EARS and black or brown lures as the WOOLY BUGGER with golden bead are great carp flies for active stalking
Active Feeders
If the fish are active under the surface and eat, for example, the flower, leaves and grass, smaller fruit of fruit trees or large terrestrial insects, it is best to try floating silhouette patterns of large insects, multicolored "BREAD FLIES" or other types of pseudo-flies mimic, e.g. the white fluff of the poplar blossom, colored flower leaves or the grass, which especially love the grass carp!
Fly Hooks
What I consider very important is that carp flies should be tied on high-quality sharp and very strong hooks made of strong and durable steel.
Big carp over 80 cm will fight for a long time, during which the hooks from thinner and softer wire will easily bend and we can lose a precious catch at the end of the fight, because - as it happens - at the last moment the hook will not hold and the fish is free!