A short article dedicated to the undeniable advantages of functional underwear designed for fishing in the cold months of the fishing season from the production of the world-famous and very popular American fishing brand SIMMS Fishing.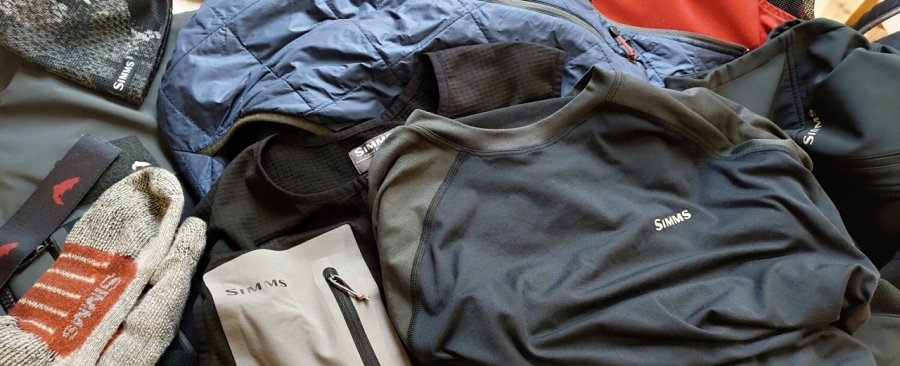 Quality insulating clothing Simms Fishing, which in addition to the traditional features hides many other benefits that not everyone knows.
ℹ Simms products are simply well thought out and refined down to the last detail, and this is fortunately true even for clothing that nobody actually sees, but is all the more important than, for example, a branded cap visible to everyone - namely FUNCTIONAL INSULATING CLOTHING - 1st and 2nd layer thermal underwear! 🧦👕
From personal experience I can say that the main and most practical advantages include:
✅ Flat and fine inner and outer seams = nothing scratches you and the layers do not catch on each other!
✅ Anti-bacterial material treatment with Anti-Odor odour protection + quick wicking of moisture from the body surface out through the other layers.
✅ Very lightweight and extremely comfortable material on the surface of the body, which does not bite (even with a higher merino wool content - socks) and after a while you do not even feel it on the body.
✅ A huge advantage is the outer sheen/slipperiness of the material, which you will appreciate most of all when layering comfortably without problems with rolled up sleeves, shifted shoulders, etc. - you know! 😉
✅ Loops on the long sleeve shirt and bottom = sleeves and legs do not roll up and stably insulate the limbs along their entire length.
✅ Extended length of functional LS shirts = no risk of early dislocation during active fishing and bare backs that are then prone to catching cold.
✅ Generally a great fitting cut and matching the size of clothes to what you normally wear = if you are a size L - choose L, as Simms has long since gone European in sizing! 😉
👍 Simms is simply the leader in fishing clothing and proves it especially with things like functional long sleeve shirts, underwear, socks, boxers, overalls (Fleece Midlayer Bib Simms Raven). And it's with these - often overlooked by anglers - that the quality foundation of an active angler's clothing begins! 💣🎣✊
So don't hesitate to choose from our full range of functional thermal underwear from Simms Fishing. 🔝