Recently, we have significantly expanded our offer of streamers intended for fly fishing for freshwater predators, and in the categories of Pike Flies, Bait Fish Imitations or Poppers, we have also included originally saltwater patterns of streamers previously prioritized for targeted fishing of exotic fish predators inhabiting saltwater. I'd like to explain to you why we did so!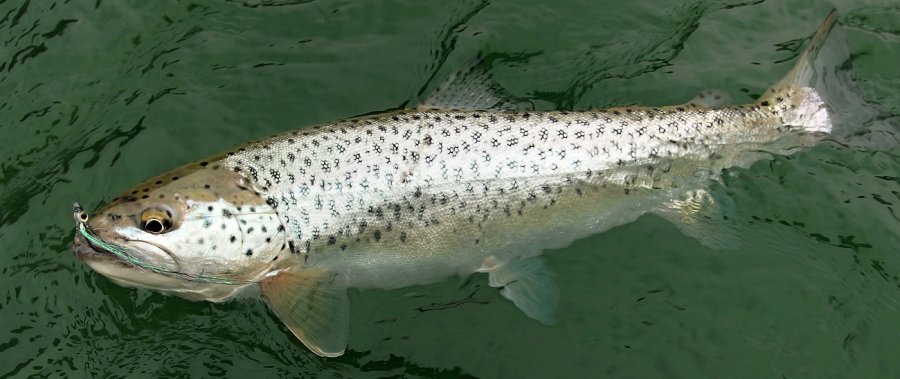 The beautiful lake brown trout could not resist the bait fish streamer - a pattern originally intended e.g. for sea & striped bass fishing.
The first question, which is indirectly asked in the title of this article, is: Why to fish with saltwater streamers on freshwater? and my initial and in my opinion very concise answer is: Why not! 😉 Of course, I deliberately make it a little easier, but it is necessary to realize that selected saltwater streamers will be great for catching predatory fish from freshwater, and basically it can be said that their only and in my opinion very slight "handicap" is that that their original purpose was to imitate only a certain species of bait fish, which occurs only in the sea, not in rivers and lakes. But that's about it, and if we're mainly talking about bait fish imitations (not specific species of sea flies, such as imitations of crabs and other shrimps), it doesn't matter if we're fishing with them at sea or in the freshwater.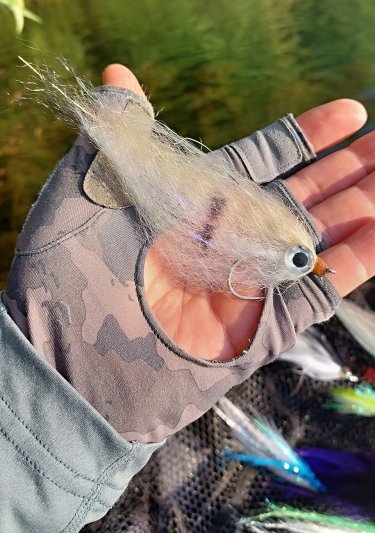 The large streamer Gym Sock, tied from light synthetic fibers on a super-quality saltwater hook, is a great pike fly, although it was originally intended for fly fishing for big and extra fighting GTs (Giant Trevally) who live mainly around the Maldivian atolls!
As you already know at least from previous articles, for example about Pike on the fly, predators attack the streamer mainly because of its movement, size, color, irritating elements such as big eyes, glittering tinsels and other fancy fibers, acoustic elements incorporated into the fly etc. if the streamer is originally intended for salt or fresh water!
Therefore, you can boldly use most of the patterns from the category Saltwater Flies also for fishing freshwater predators, because especially fish streamers usually contain all these elements described above and thus are for pike, zander, perch, asp or then large trout, huchen and taimens really very attractive!

If we were to ask the other way around, and therefore whether it would be possible to use freshwater streamers to catch predators from sea, this could already be quite a major problem, for one fundamental reason, because of the hook used - which is the main advantage of saltwater streamers used in fly fishing for freshwater predators!
In addition, the high-quality saltwater hooks to which the saltwater streamers are tied - mostly Tiemco S811 and Gamakatsu SL12S - and which are made of very hard and corrosion-treated steel are very sharp and do not demage as easily, for example when in contact with stones as streamer hooks made for freshwater fishing! At the same time, they corrode much faster - the more streamer on such a hook would be quite difficult to use when fishing in salt water!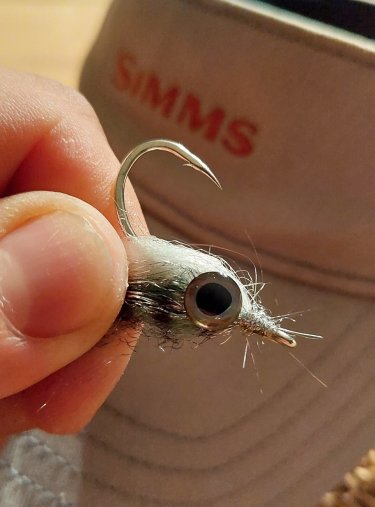 The main advantage of saltwaters flies is the highest quality saltwater hook made of hard steel, which is also specially treated against corrosion! Fulling Mill saltwater streamers are tied to Tiemco S811 and Gamakatsu SL12S hooks, with which you can really afford a lot - these hooks will last!
To the question How to fish with saltwater streamers on freshwater? So, of course, there is also a very easy answer, namely: Basically the same as with predator streamers designed for predatory fish inhabiting fresh waters! When fishing with large streamers, I definitely recommend using a quality pike wire rig to avoid losing the catch of nice pike and the consequent danger to its life due to a bitten bait in her mouth or esophagus!
Always try out how the streamer behaves in the water - mobility, glitter, jigging effect, etc., and then bring it to life when stripping, to use its appearance and mobility to attract and provoke the predator to the strike! When fishing with Poppers and Decievers, I recommend using a floating or subsurface Hover fly lines, and when fishing with other types of bait fish streamers, fish with intermediate or sinking fly lines depending on the depth and expected occurrence of fish (stagnant water, large river pools) and current strength (large river).
➡ Now everything is clear and there is no reason not to use large streamers originally designed for fishing giant tarpons, GTs and snooks such as Gym Sock Streamer, Black Brushy, Magnetic Minnow Chartreuse, Black & Purple Brushy, Two Tone Brushy Black & White or big poppers as Crease Fly Olive Back and Popper Mylar Chartreuse & White when fishing for freshwater pike and zander in our conditions!
✅ Be sure to try medium-sized and smaller bait fish streamers, primarily designed for saltwater and imitating small fish there, such as mullets, anchovies or sandeels when fishing for bass, perch, zander, chub and, of course, big trout - both on large rivers and especially on still waters! Patterns such as Salty Baitfish Mullet and Salty Mullet in several color variations and sizes, Salty Baitfish Anchovy, Daz's Sandeel Olive & White, Surf Candy Light Blue/Olive, Sparkle Minnow Gray or Los Roques Minnow Green/Grey and Bass Streamer White/Chartreuse designed for sea and striped bass fishing, Softy Sandeel White and many other streamers are clearly great and effective baits for this purpose! 👌