In another episode of our "Fishing Tackle On Test" I would like to focus this time on an indispensable part of fly fishing clothing for the cold times of the fishing season, such as the fresh autumn, early spring and frosty winter months! If you want to be warm and comfortable in this bad weather without endangering your health with colds and the associated illnesses, you should definitely think about some reliable warm underpants that you will wear under your waders or your outdoor pants.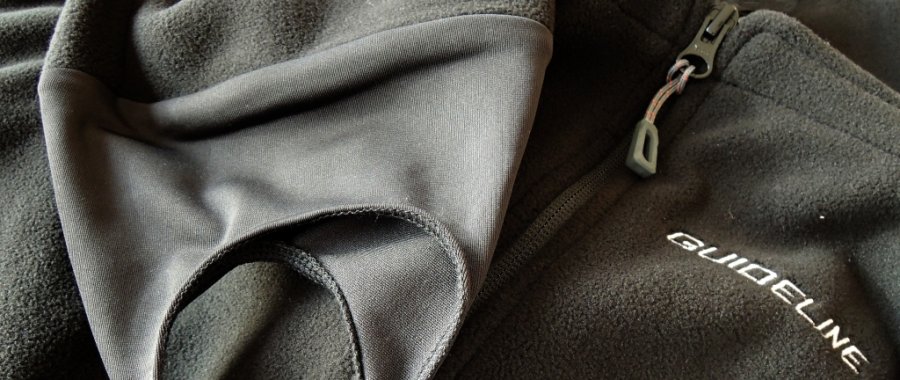 Warm fleece bibs have elastic and adjustable suspenders, micro-fleece side pockets with zips, loops for feet and two opposite and independent zippers on the front side of the pants. All these features ensure your comfort during fly fishing!
And the right and reliable warm underpants for the cold season are definitely the Guideline Thermo Fleece Bibs!
These pants are made of special thermo fleece, which makes them really very comfortable and warm underpants, which you can put on either bare legs - 1st layer, or you can wear them as 2nd layer on some suitable thin merino underpants. This way of wearing is much better in my opinion, because any sweat or condensation vapor does not go directly into the fleece, but it is sucked just this thin 1st layer, while the second layer in the form of Guideline Thermo Fleece Bibs ensure reliable and comfortable thermal insulation before the body cooling, which in the cold months of the fishing season is a decisive factor that will cause any future illness!
If I had to compare these fleece underpants with some ordinary warm pants that fishermen wear when fishing under the waders, and I kind of say that this part of clothing and most fishermen underestimate - perhaps because no one will see it near on the water such as branded jacket or cap :-), so I would definitely point out a few advantages that these pants clearly have over conventional underpants!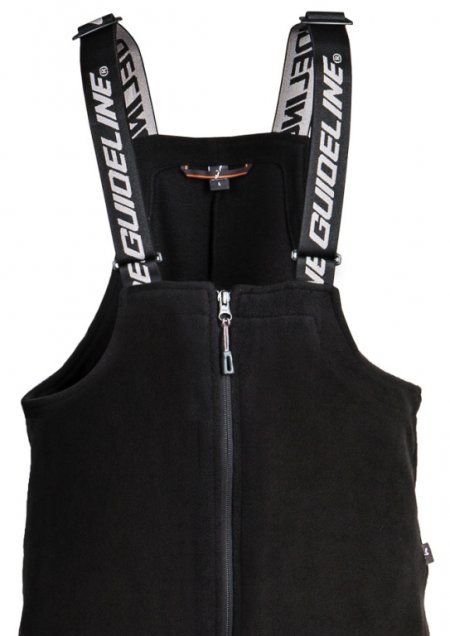 Guideline Thermo Fleece Bibs - Very practical adjustable suspenders keeping the pants comfortably stretched on the legs. Dense thermo fleece is warm and great for your body comfort!
The great feature of these fleece bibs is their extended length, thanks to which your backs are protected while fishing, and so to cool very sensitive kidneys, whose disease is most unpleasant and painful, and if someone has experienced it will certainly confirm that it is certainly nothing enyoable! ;-) Thanks to practical adjustable suspenders, the bibs do not come down and keep the body warm from the ankles to the chest all the time!
Another great and practical part is the two opposite and independent going zippers on the front of the pants, which you use when you need to pee. Combined with the waders, which also feature a waterproof zipper in the front, you can do your job very quickly without having to remove anything from your clothing - this causes thermal insulation disruption and shock cooling of the warm body.
Foot loops are an excellent accessory to these underpants in that they keep the underwear still taut on the legs and - in the case of dressing waders - there is no roll-up of the thermal trousers up the leg. When you put on your wading boots, your pants can push you to the shin, which is not pleasant, and in the end you will have to repeat the whole dressing action, which is not suitable in the cold season!
The last advantage that makes these thermo underwear special is decent side pockets with zipper. Once you stop fishing and take off the wet and cold waders, you can continue in these pants, so you can heat your cold hands in the pockets, or. put in mobile phone, documents, keys...
CONCLUSION: Guideline Thermo Fleece Bibs are excellent warm underpants that are absolutely essential for every fisherman when fishing in cold and freezing periods, both when wading through ice water or when fishing from the river or lake bank in bad weather! Without a doubt, this is an absolute MUST HAVE if you enjoy fishing from a belly-boat, where it is extremely important that our body be warm and comfortable for several hours in the cold water!
We all have one health only, so do not be afraid to invest in it in the form of quality thermo insulating clothing!