In the last - 4th episode of articles about fly fishing for chubs, we will focus on larger specimens of this fish, but in parallel on another predatory fish inhabiting the same river zones along with the chub - ASP. These fish are very similar in behavior, in their hunting habits and also in their diet. They feed mainly on smaller fish, so we will fish with their imitations - STREAMERS!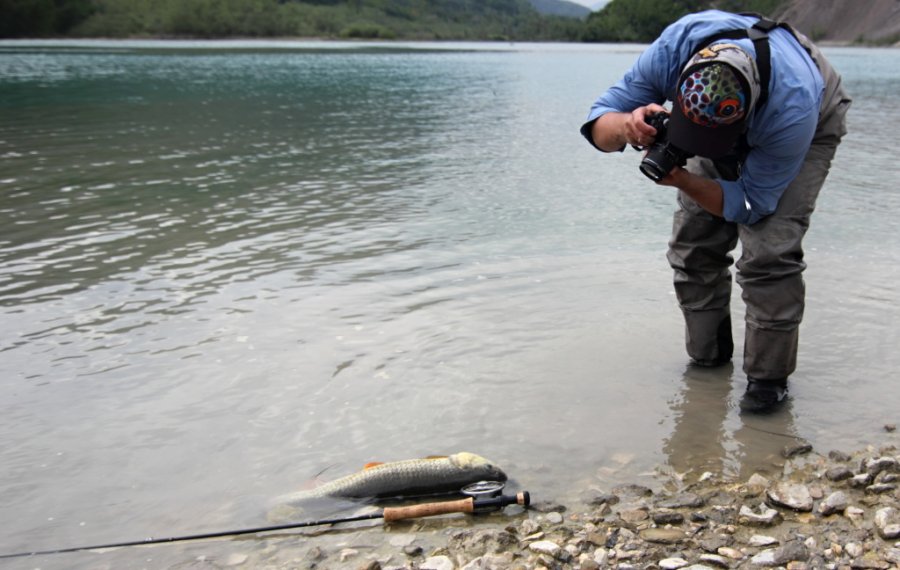 Behind The Scenes - Photographing a trophy chub over 60 cm in the traditional Fish & Gear composition. This beautiful specimen in great shape was caught on a large lake while sight fishing on a larger black-violet zonker with a golden tungsten head!
STREAMERS - imitations of mostly small and large fish, but also frogs, mouse, etc., are always associated with targeted fishing of all large predatory fish! In other words, all the fish that are already largely feeding on a larger type of meaty food, from which they recieve important nutrients for their growth and strenght!
Of course chub and asp will never be able to compete with the true "pure" predatory fish such as pike, catfish, zander or large salmonids, and of course predatory sea fish. However, in the case of targeted fishing of the largest ones, we will be most successful especially when we use the appropriate types of streamers that imitate the most abundant species of tiny fish which live in the same locality as these predatory carp fish!
In this article, I am not just dealing with chub, as was the case in the previous three episodes, but I have also added a asp to the "hunter's viewfinder"! This fish inhabits the same parts of coarse waters, feed on a similar type of food as the great chub - especially small fish and coarse fish fry! And this is the right time for fly fishing with streamers!
Of course, the hunting habits of these fish are a bit different - The big CHUB is a fish loner which - for the given period - usually has a only one hunting territory such as place by the bank, deeper pool or part of the river stream; ASP occupies much more space on the river and passes more selected sectors with regular fish prey at regular intervals! All of these factors are very important for our fishing tactics! If you can, observe the behavior of the fish, you will often save a lot of time by blind casting to no-fish places.
Targeted fishing for large chub and asp on non-trout waters is an exciting fly fishing technique! Therefore, prepare for unforgettable hunting experiences often from very poorly accessible places, immediate attacks on your fly and really sharp fish strikes by wild fish!

The Best Streamers For Chub & Asp! From the left: Golden Nugget Woolly Bugger Black, Appetiser, Minkie Tan, Muddler Minnow, Zonker Pearl, Polar Minnow Perch, Minkie Straggle, Tinsel Town
Golden Nugget Woolly Bugger Black - A traditional US trout streamer that exists in many variations around the world, but the original is just one, and it's a black version with a golden head, a marabou tail and a densely palmered body. Although it is a streamer originally developed for trout fishing, its use is very versatile, so it is great for large chub fishing! This streamer can be reminiscent of tadpoles, larger drowned insects, dragonfly larvae, stonefly nymphs or small dark-colored fish. An indispensable streamer for summer hunts of hungry chub on larger non-trout rivers!
Appetiser - A very old, traditional and versatile imitation of fry of coarse fish from the vice of a great UK fly fisher and one of the major trout hunters and innovators in English still waters - Bob Church! Another simple type of streamer originally tied for big trout from reservoir, but also another great streamer for chub and asp! The Appetiser pattern is timeless streamer! In larger sizes "MUST HAVE" for river and lake asp!
Minkie Tan - Zonkery are simple types of streamers that can be easily and quickly tied in many color variations and designs, as zonker strips are now available in a large color range! These factors make them the most effective types of baits for fishing all kinds of predatory fish, so chubs and asp as well. This natural beige-pearl version is great for large chub - cannibals in slower river partss where big chub are waiting and aggressively attacking naturally looking fish imitations!
Muddler Minnow - Another traditional and very original type of streamer! Muddler Minnow is an excellent river streamer that I like to use during summer fishing on off-trout rivers when fishing large chub and asp which hunt in faster streams. At a smaller size, this pattern can also be used when fishing with wet fly on the leader.  When fishing with a floating line, it skipping on the surface and irritates active river chub and asp!
Zonker Pearl - Subtle and another very simple type of streamer that imitate a smaller fish or fish fry! Note that the ideal streamers for chub fishing is very simple subtle patterns in bright specific colors! River chub and asp do not need sophisticated types of streamers. They react very often to their impact on the water surface and they decide to attack in a short time, so they don't have much time for closer examination! If our streamer is OK in shape, color and has some shiny materials that make it more attractive, it is deadly pait for these fish species! This type of zonkeru is excellent even in autumn fishing in shallow parts of reservoirs! Otherwise, excellent year-round streamer for running and still water!
Polar Minnow Perch - A nice imitation of the perch fry, which finds its main use in the waters with shool of this smaller predatory fish. On rivers it is good to look for inaccessible deeper pools, where this fish school often occur! We can expect the presence of a large chub, but a large perch whose catch would make us very happy too!
Minkie Straggle - Medium-sized streamer combining elements of Sparkler and Zonker. Very important is the flashy body imitating shiny scales of small fish, the movable back of a mink fur and the contrasting bright red throat acting as a trigger point. It can be said that this is a more natural variant of RH streamer, which the big chub really love!
Tinsel Town - Very shiny ansd flashy streamer all tied from thin tinsels - Angel Hair. Due to the fineness of the material used, this pattern is maximally movable, which enhances the irritating effect! Big eyes are the last bonus that makes this bait an excellent all-year-round streamer for chub and asp fishing on running and still waters! Excellent streamer when fishing in cloudy water, eg after a summer storm. On the contrary, in clear water in compination with sunny weather, it can be distracting, so pay attention to this factor!