In the first episode of our "Fishing Tackle On Test" I will focus on a very practical accessory of fly fishing clothing, whose main application will come on hot and sunny summer days, where we visit favorite waters lightly wear, but on the other hand we have to make sure that the sharp sun rays did not burn our skin. Do not worry about it, from now - Buff Original UV Arm & Coastal Sleeves - will protect us perfectly in such situations!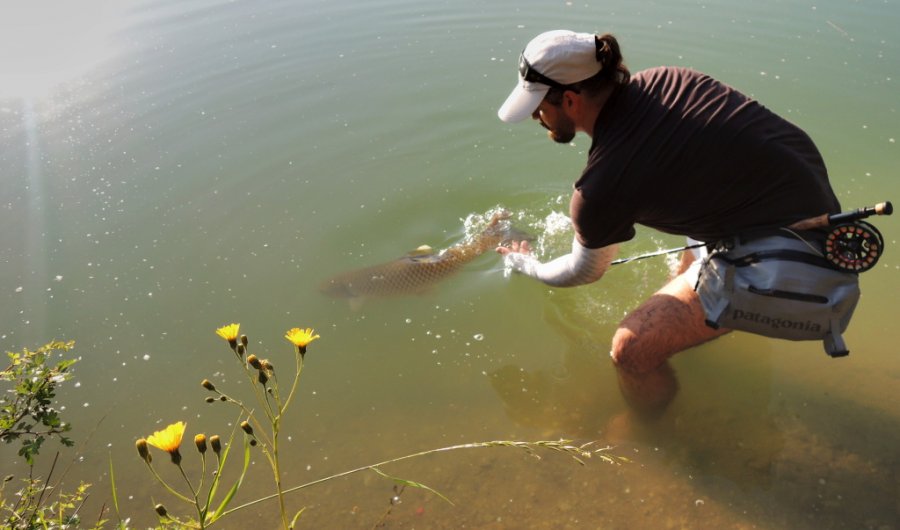 Beautiful and powerful grass carp enjoys the first moments of freedom after a fierce fight in which he bravely fought for his life!
Honestly, I am quite skeptical about these various "redundant" fly fishing accessories, and it was the same for this type of product from which I made a little fun at first! :-) In addition, I am a minimalist in the field of fishing gear and in terms of clothing rather a shirt type, so it is quite clear that as a potential user I did not give many chances to these sleeves...

I have tested them myself several times in hot sunny weather, for which these fly fishing UV protective sleeves are destined and I must admit that I was very pleasantly surprised and after the initial skepticism I quite liked this basic fly fishing accessory!

So if you like fly fishing in summer in lightweight style - in a T-shirt or in a short-sleeved shirt, these sleeves will protect your arms and hands in case of harsh sunny weather! After a while you no longer feel them on the body and if it is very warm, just soak your sleeves - very pleasantly cool! On the other hand, as soon as the sun comes in and it cools down, it warms up and protects against stinging insects! In the form of a small package, it fits in a shirt pocket, shorts or waist bag, so for all fly fishing minimalists - this is SUPER summer fly fishing accessory!

If you are interested in personal mini-reviews and would like to try these sleeves, check out all versions HERE!