Articles:
Winter tying sessions for me always start with reflections of various days of my early fly casting formation, spent in the ...
Articles:
Looking for Brook Trout this Summer? Try the Rangeley Lakes Region of Western Maine.
Articles:
Join Korrie Broos on a journey to fish for South African catfish or barbel as the catfish is locally known.
Articles:
Tungsten beads are popular in fly tying circles, but they are subject to never ending discussions about their quality (or rather cost vs.
Articles:
My main contribution to this outstanding river fly selection was with some of my key 'tactical' patterns that were largely ...
Articles:
Testing results of the new barbless river fly collection from Fulling Mill.
Articles:
Grayling has always been known as a symbol of fly-fishing in the Czech Republic. The author gives a short report about Czech graylings.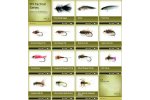 Articles:
What Fulling Mill writes about their Tactical Series...
Articles:
Tips for fly fishing destinations in Nort Eash Bohemia (Czech Republic)
Articles:
Iceland - land of ice and fire. Perhaps a bit worn out cliché but so very true...