Eshop:
Hand made furled leader ​​from braided nylon monofilament. No shape memory leader for Czech Nymphing..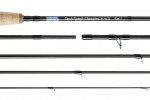 Eshop:
Spare tip section for Hanak Competition Czech Nymph Champion Rod 4in1
Eshop:
The gold beads on these flies give fantastic movement - use a jerky stop start retrieve to exaggerate this.
Eshop:
Damsel Bodies - just like the real thing! Great detached damsel bodies, just dub a thorax and add wings to form the perfect damsel.
Eshop:
These waders are highly breathable, puncture resistant, functional and have a modern design. Available from 2001 March 5th!
Eshop:
Very fine tying thread with a flat profile.
Eshop:
The knots Kamoufil leaders were studied to combine the nervousness and discretion. Special leader for french nymphing.
Eshop:
Flexible fly box that can be filled in a second with the foam changers and flies that you need for the day.
Eshop:
Join actor Dean Andrews (Life on Mars/Ashes to Ashes) with professional guide and six times English national rivers champion ...
Eshop:
Spare Foam for Original Cases. Perfect for streamers or other large flies.