Articles:
Our target species, sea run cutthroat trout. This particular strain of cutthroat is a Coastal cutthroat and is found from California to Alaska.
Articles:
Luke's process to create each fish sculpture starts with carefully sculpting the form to match the physical attributes of the fish.
Articles:
Is there a possibility of truly capturing the essence of nature on canvas or a metal hook?
Articles:
As with Pike, Musky rely heavily on their lateral lines to detect subtle vibrations given off by heir prey.
Articles:
Thirteen best fly fishing locations in Slovenia recommended by local fly fishing guide Rok Lustrik.
Articles:
Marble trout is only indigenous species of trout in the Adriatic (Western) part of the river system in Slovenia.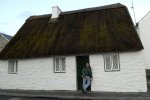 Articles:
Essay on a visit to Ireland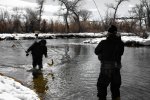 Articles:
During the winter, it feels like everything slows down and becomes quiet.
Articles:
The long hot days of summer are spent hunting solitary common carp.
Articles:
Productreview by Dave Wiltshire: Hanak Czech Nymph Micro Spiral Indicator