Articles:
Thirteen best fly fishing locations in Slovenia recommended by local fly fishing guide Rok Lustrik.
Articles:
Marble trout is only indigenous species of trout in the Adriatic (Western) part of the river system in Slovenia.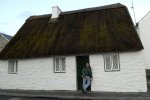 Articles:
Essay on a visit to Ireland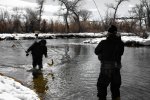 Articles:
During the winter, it feels like everything slows down and becomes quiet.
Articles:
The long hot days of summer are spent hunting solitary common carp.
Articles:
Productreview by Dave Wiltshire: Hanak Czech Nymph Micro Spiral Indicator
Articles:
Jeremy Lucas writes about current developments in river fishing for trouts.
Articles:
Hans recommends techniques for fishing his Leadhead pattern.
Articles:
Recommendation for the best fly fishing fisheries (streams & dams) nearby the national park Giant Mountains (Krkonoše) in the Czech Republic.
Articles:
Easy-to-follow how to make spiral strike indicator for nymph fishing.