Eshop:
Shiny body thread for easy tying of the fly body.
Eshop:
Tapping into our own resources, we evaluated and picked the best and most popular Guideline rod models from the last decade, ...
Eshop:
Very strong tying thread for tying large flies - lures and streamers.
Eshop:
Scottish based publication contains articles, tips, and patterns from highly respected fly fishing writers and fly dressers.
Eshop:
Hot news! Wearable fishing rod holder. Keeps your reel out of the sand, mud and salt to.
Eshop:
Empty dubbing dispenser for creating your own dubbing selection.
Eshop:
Hand made furled leader ​​from kevlar. No shape memory leader with special design for big predator fishing.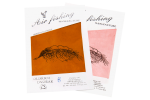 Eshop:
Basic material for tying of Czech Nymph backs in the form of flat sheet. You can cut out the strip as long and wide as you need.
Eshop:
This dubbing is a special blend of Antron and mottled, dyed Squirrel hair.
Eshop:
Volcanoes, glaciers and cascading water, Iceland´s magnetic allure is  irresistible for the traveling fly fisher.