Articles:
As a fly fisherman , I 'm always in search for that notable fly.
Articles:
List of new 2012 barbless small water flies from Fulling Mill.
Articles:
The greatest threat to sports fishing isn't Global Warming.
Articles:
For my first article in the "At the vise" series, I chose my favorite streamer pattern.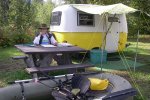 Articles:
Arthur's original concept of this fly was to use it sacrificially as a weight on the end of a long leader - the intention ...
Articles:
From a fly fishing competition in Wales.
Articles:
The bung, what is it? It is in fact a floating pattern that has the capacity to hook fish, as well as acting as an indicator to register a take.