Eshop:
Flashabou textured synthetic dubbing. Can be mixed with other dubbing materials.
Flies:
The Woolly Bugger is probably the most fished streamer pattern around the world.
Flies:
Imitative pattern with the drop acting as trigger point and weight at the same time.
Flies:
Klinkhammer series flies are named after their inventor Hans Van Klinken from Holland.
Gallery:
William Joseph's Access Pack and Infrared Thermometer productreview.
Eshop:
Spare spool for the Hanak Competition Stillwater II fly reel.
Flies:
Olive quill tungsten nymph is one of the most universal patterns for fishing all over the globe.
Eshop:
Magnetic Hook pallet for organizing hooks. 3 types of configurations to match hook size.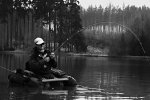 Gallery:
Now comes the right time to catch carp fish on a fly. So go ahead and try it!
Eshop:
A great innovation for pike fly anglers.