Articles:
It is rare to observe masters up close. Rarer still, to see methods and skills that go way beyond the boundaries of the sport ...
Articles:
About ten years ago I started using body weights of different shapes, which became part of the hook and which started to solve some existing problems.
Articles:
What's the "newest" fly fishing quarry in America? Carp. Carp? That's right, carp.
Articles:
A description of the Sieldutjakka River in Sweden.
Articles:
Small mouth bass fishing in the New River in Virginia.
Articles:
Learn more about this popular Swedish salmon river.
Articles:
A description of the Aby and Kage Rivers in Sweden - smaller salmon and sea trout rivers in the vicinity of the Byske.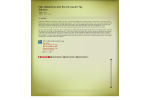 Articles:
A story about a record which has not been exceeded as a rod-caught salmon in Scotland.
Articles:
Fly recommendation for Scottish traditional style by Sandy Forgan.
Articles:
Basic tactics for trout in small waters.