Articles:
Have you ever heard about furled leaders? If you would like to improve your casting and fly presentation, you should continue reading.
Articles:
I have been fortunate to be part of a small group of fly fishermen and fishing guides who readily share information for pattern design.
Articles:
If you want a trip of a lifetime with a chance for a trophy and memorable experiences then the "RIVER of MONSTERS "should be on your list!
Articles:
The last 8 years has seen my emphasis shift towards large, wild river trout...
Articles:
In 2010 the highest award goes to Georg Christel, Germany...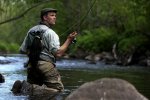 Articles:
Buy all 3 DVDs of Modern Fly Fishing series and get Fly Fishing Adventure DVD for FREE.
Articles:
Saltwater Fishing at its Best.
Articles:
I have used many fly fishing vests since the late seventies, but during the last few years I had seriously problems with ...
Articles:
The company Hends is introducing a new product to the market, the five-sectioned XP 9003 rod. The new product tested and reviewed by Dan Svrcek.
Articles:
Maybe it is your turn to try a nice fine fly on a small hook?