Articles:
The Mataura River is the trout fishing purists dream. It is reputed to be the ultimate in dry fly angling for brown trout, ...
Articles:
Fly Fishing for Pollack at sea coast of Scotland. Beautiful scenery, harsh conditions and beautiful strong fighting fish!
Articles:
Article about tying another lake or river streamer.
Articles:
The Mastallone River is one of the best rivers for fly fishing in the North of Italy.
Articles:
Clark Colman explains how to find and catch a hungry but wary coarse fish on fly gear throughout the season.
Articles:
Jeremy Lucas writes about his highlights of 2013 season.
Articles:
Step by step instructions to tying the effective still water and river lure.
Articles:
My experience with Thinkfish shirt after the trip to Sweden.
Articles:
Summary of most important salmon rivers in Sweden.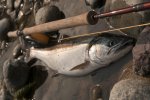 Articles:
There is always something to fish for in BC...