Flies:
The Coachman fly is reputed to have been created in the nineteenth century, supposedly by a coachman to the reigning monarch.
Eshop:
Ultra-light large-arbor reel for stillwater and streamer fishingwith extra sensitive and reliable drag.
Eshop:
HMG fly stimulator's bodies for tying gold-bead nymphs, wet flies, still water flies and many other patterns.
Flies:
A best seller CDC variant of the Red Tag, a versatile fly, fish it as a Red Tag or cut the tail off and you have a black F-Fly
Gallery:
Pictures from the 2015 season opening on Střela stream, Czech Republic.
Eshop:
Strong stainless steel fly hook suitable for salt water fishing.
Eshop:
Classic round tungsten beads that will give to your flies extra weight and trigger extra attention of fish.
Flies:
Zonker patterns are very effective when it comes to targeting ...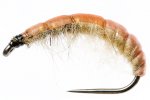 Eshop:
Light brown pattern suitable for all salmonids in the river.
Eshop:
The Iron Blue Dun is a standard hackled classic that has a permanent home in most dry flyfishers flyboxes.