Articles:
When you go fly fishing on large rivers, it's really easy to get lost in the vastness of the streams.
Articles:
For this edition of "At the Vice" I have chosen one of my favorite river fly patterns designed for barbel.
Articles:
Jeremy Lucas describes his highlights from 2012 season.
Articles:
Report from the traditional fly fishing competition on the River Dee in Wales.
Articles:
Fly Tying tip for a killer buzzer pattern for stillwaters.
Articles:
Flyfishing section of theSlovenian Fishing Association (SFA or in Slovenian RZS- Ribiska Zveza Slovenije) is announcing the ...
Articles:
Submit your picture gallery and win COOL fly fishing prizes! The main price: Thinkfish Bold Reel (RSP value of 295 EUR)!
Articles:
The flats that I am speaking of are on the South Fork of the Snake River, Idaho.
Articles:
Information about a Slovenian hotel from dreams for a flyfishermen with style.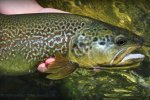 Articles:
10 important facts for streamer fishing for a marble trout.