Eshop:
Unsupported (Flat) winging material in really vibrant colours uses in lots of tails and cheeks.
Eshop:
Leader strike indicator designed for Czech and French Nymphing methods.
Eshop:
Champion fly fisherman Hywel Morgan and professional pike angler Anthony Glascoe Jr.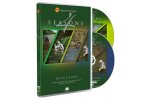 Eshop:
In a continuation to the series, professional fisherman Hywel Morgan invitesyou to join him for another year as he tackles ...
Eshop:
Olive nymphs are common in most rivers and this pattern is one of the many possible imitations.
Eshop:
Inconspicuous imitative pattern for general usage everywhere were fish feed on mayfly nymphs.
Eshop:
Waterproof fly box for medium size and smaller flies.
Eshop:
Variant of the classic Pheasant Tail Nymph. Golden drop gives to the fly an additional weight and acts as an strike trigger for fish.
Eshop:
Black micronymph with bit of shiny body material added. In some occasions this pattern works much better than the "plain" black pattern.
Eshop:
A new range of lightweight and compact boxes with easy-slot foam. Three different coloured sizes to choose from as an easy aid to fly identification.